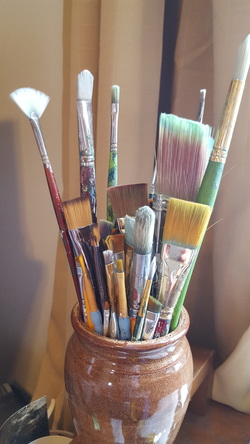 Route 460 runs through my part of Southside Virginia, a long, straight road that parallels a set of railroad tracks and runs from the coast to Petersburg and then off to the mountains. The part I live on is relatively flat, with the occasional gentle roll, and passes through small towns, swamps, and farmland. A lot of stores sell peanuts, barbeque, and antiques. It's not showy land that amazes people with its beauty; it's the kind of land you need to take your time with.

Yogi Berra is credited with saying, "You can observe a lot just by watching," and one of my goals is to examine the world with an intensity that reveals an object's (or landscape's) true shape, color, texture, and way of being. It's amazing what can be missed with a glance and what can be seen when you take the time to look.

At the same time, I am not trying to replicate the real world with the exactitude of a photograph; I am simply interpreting what I see. This holds true for my abstract work as well, which provides another way of looking at the world.



~Sharon Denmark, 460arts

Contact me at: SharonND896@gmail.com
Follow me on Instagram, 460arts

All images copyright Sharon Denmark 2010-2017

With thanks to Joyner Paint & Frame Co. in Petersburg for supplies, advice, and support.

---
---
Solo Exhibition at Swift Creek Mill Theatre

Untitled Solo Exhibition, Swift Creek Mill Theatre, July-August 2017

"Wavelengths," Petersburg Area Art League Member's Gallery, January 2017

Virginia Commonwealth University Parkinson's and Movement Disorders Center, Pieces of Hope permanent exhibit, "Flight," May 2014

---
Photographs from my neck of the woods.
All images Copyright Sharon Denmark 2016